Last December,
FMS
selected six women: Kashma Maharaj, Fabiola Boulanger,
Ginger Martin, Cinderella Landolt, Penpraghai Tiangngok and Katka Kyptova
as our
Women of the Year 2011
.
The introduction read:
It's that time of year when idiot journalists and TV producers make stupid lists of The Best/Worst/Biggest/Dumbest/Most Earth-Shattering Moments/Men/Women/Songs/ Whatevers of the year. You can't turn on the TV for these shows. So I'm not going to do that. It's not a list, it's a collection. It's not the same thing at all. Really.
I've chosen six because six is the number of finalists in most bodybuilding contests (if there are at least six competitors anyway - aren't those scenes of female muscle contests where there is only one competitor in a class odd?). Six it is. And they are in no particular order. They're all winners.
I'm not saying they are the best bodybuilders in the world today, nor that they have been the best in the world in 2012. But I am saying that these six women, some new to me this year, others familiar from 2011 or even before, have been on Swell's mind (and screen) rather a lot this year.
We're not the type who change our ways in a hurry. The deal is exactly the same now as it was then. So, here we go again. Ladies and gentlemen, we are proud to present:
Female Muscle Slave's Women of the Year 2012Sarah Hayes: SuperWoman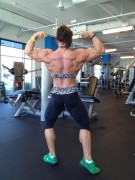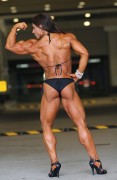 Sarah has been on the
FMS
radar since 2008ish, but this year, as
another blog
pointed out, perhaps less eloquently than we would, she has become 'Super Muscular FBB Woman'. Sarah unveiled her 2012 model at the IFBB Europa in June, where she placed fifth, and then, after a heroic total of twenty-two weeks of dieting, won the Tampa Pro in August, her first win as a pro, to qualify for the Miss Olympia for the first time.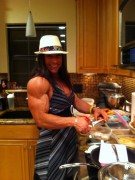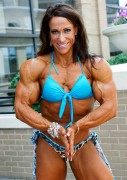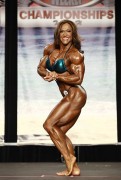 While her legs, by her own admission, still need improvement, since last year every muscle on her body seems to have gained inches. She is truly huge, particularly in her upper body. Apparently, her biceps have been measured at eighteen inches, which, I believe, is about as big as they can get without exploding out of the skin, and while it's always a good idea to take these measurements with a pinch of salt, even if it's an inch or an inch and a half too generous, just use your eyes, and you'll see that's a serious pair of guns she's sporting.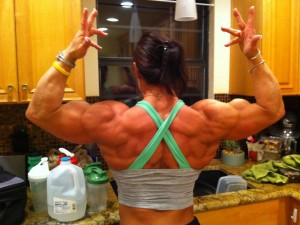 In 2012, then, Sarah joined the big league, but it's the fact that she's done so without sacrificing her looks that has impressed me so much. She is living proof that, as she says herself,
Women can have muscle and maintain their femininity and beauty
. To this fan, she's the best thing since Gina Davis, and from me there's no higher praise than that.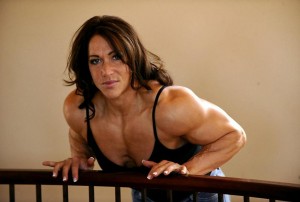 Sarah is the kind of female bodybuilder that makes you wonder why most guys don't like women with muscle (or at least they claim not to). In fact, she is the kind of bodybuilder that makes me feel lucky that I am one of the female muscle lovin' brethren, because if I weren't, I would probably never have heard of her.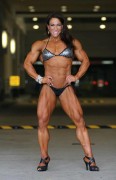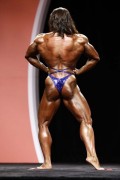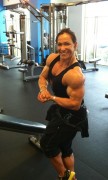 I honestly think she has the potential to appeal to an audience outside the bodybuilding world, and most people would agree that the sport needs a woman like that. But whether that happens or not, in the parallel universe that exists inside my head (!), all the women are muscular. And Sarah Hayes is
the
super-model.
Holland Canter: Action Girl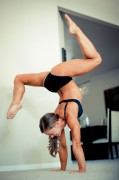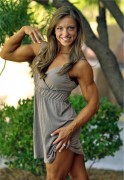 Named after my favourite country (probably), Holland has competed twice this year, to my knowledge. Her best result was sixth at the NPC Nationals last month. Inspired by Oksana Grishina, she may switch to Fitness in future, but for now, she's in the Physique class, competing, she says,
as a hobby
(!).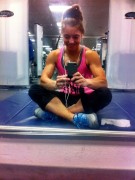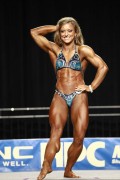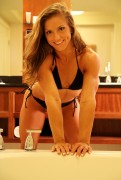 I discovered Holland on the forums this year and I am very very glad that I did. Remarkably, this young woman has only been lifting for just over a year (I know, it's hard to believe, isn't it?) but this is far from the only remarkable thing about her.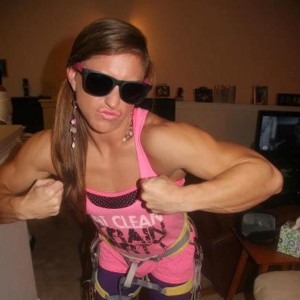 If Holland Canter didn't exist, I'd probably have to make her up as some kind of ideal Fantasy Action Girl. OK, so she's a bodybuilder. What else? Gymnastics? Yes! Let's make her a former national level gymnast. Strength and flexibility, and her legs would be really muscular. All good so far. And a climber, how about making her a climber? That would give her really big forearms and lots of upper body strength. OK, so far we have bodybuilder, gymnast and rock climber. Anything else?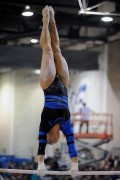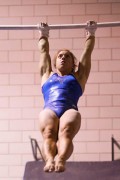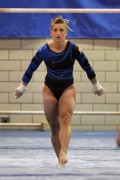 Well, I do like a woman in uniform. Army? No, Air Force is so much cooler. A kick-ass bodybuilding, rock climbing ex-gymnast Air Force babe. Sweet. And the funniest thing is, Holland Canter actually is all of these things. And, incidentally, as you can see for yourself, a total babe. And she speaks French. Mercy!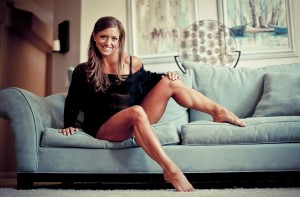 I think what little girls of today need is the 'Holland Canter Action Figure' to play with. An improvement on the Barbie ideal I think you will agree. After all, these are the women of the future we're talking about. What better role model than Holland? I'm going into business with her on this one. I think we can have them ready for the shops for next Christmas.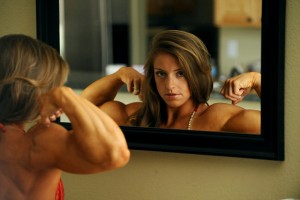 Helle Nielsen: Respect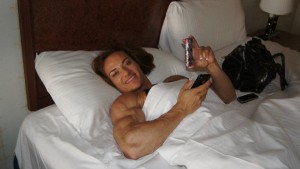 Back in 2003, Helle Nielsen was a sensation. While still in her twenties she won the Jan Tana and finished fifth at the Miss Olympia at her first attempt. For such a young woman, this was unprecedented, but it was no fluke. Helle had the muscles (her jaw-dropping legs in particular) and the conditioning to go all the way. It was just a matter of time.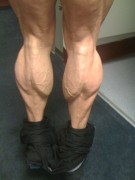 Then in 2005, a serious back injury, a herniated disc, destroyed her career. At first, walking was a challenge, but slowly she started to recover. Incredibly, and despite medical advice that she would never be able to train, let alone compete again, last year Helle took to the stage once more.
Even more incredibly, she won that first contest, the 2011 FIBO Power Pro, and eight years after her previous Olympia appearance, competed there again. And this year she competed in two pro shows in the US, qualifying for and competing at the Olympia as well.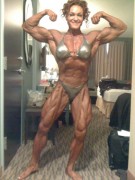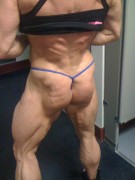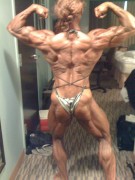 Helle's ninth place at the Europa in Hartford was downright disrespectful, although she then placed second (that's better) in Chicago, beating women who had finished above her in the former contest. Now, I may have been a little disrespectful myself by not including Helle on the list last year, but I'm not going to make the same mistake again. Sadly, not so the Olympia judges, who placed her fourteenth last year and twelfth this year.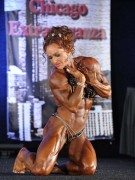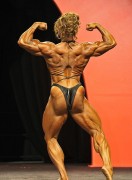 Now, say what you want about her lack of conditioning, about the vagaries of bodybuilding judges in general, and female bodybuilding judges above all. Say what you like about how competitive the Olympia is, about how finishing twelfth in such a high-class field is an achievement in itself. Personally, I think it's a disgrace. Now, I
like
Michelle Cummings, don't get me wrong, but by any objective criteria, Helle is a bigger, better bodybuilder than Michelle, and any judge who places Helle below her is just being rude. Helle will never be the contestant she once was, but we're talking about one of the all-time greats here. So show some respect.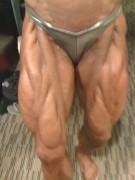 Andrea Brazier: Fitness Diva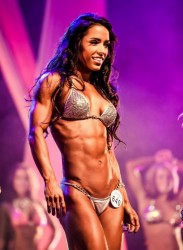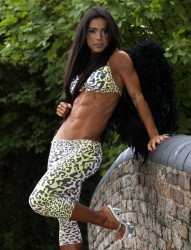 It's easy to make assumptions. When I first came across this sensationally sexy woman I assumed she was from Brazil, an Andressa Vieira type, but leaner. I assumed she was in her twenties. I assumed her surname sounded English because her family had emigrated to the New World a century or so ago. And I assumed there wasn't much more to her than her beauty and her deliciously defined abs. Well, I was right that she was from Brazil. And she is beautiful and her abs are truly wonderful. But I was wrong about so much else.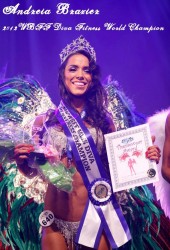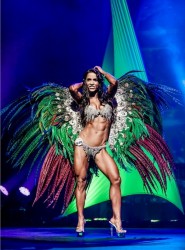 Firstly, it may be hard to believe, but she's not in her twenties, she's in her thirties. In fact, she's in her mid-thirties. And Brazilian she may be by birth, but she resides in London. She's been here a while, but she didn't just turn up and walk into a job. She gave up a modelling career in Rio to move to the UK, and when she arrived in the capital she worked as a cleaner, collected glasses in a pub, and did time as a cloakroom attendant while she improved her English.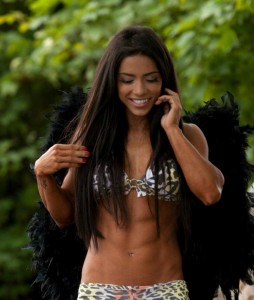 Now she runs the fitness studio
Total Body Conditioning
with her English husband, Tom, hence the very un-Latin American surname. But Andrea isn't just the pretty face of the business (although it probably doesn't hurt). She has a list of personal training qualifications as long as your arm, which isn't surprising when you learn that she has been training herself since 1993.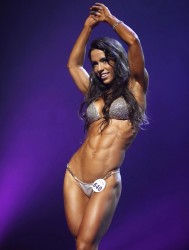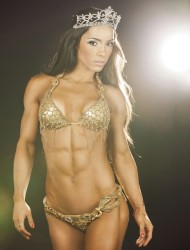 And she's a champion. I'm not exactly sure what a Fitness Diva competition involves, but it seems to culminate in dressing up as if you are going to dance at Carnival (which surely gives the Brazilians an advantage). However, I do know that Andrea is the WBFF Pro Diva Fitness Champion for 2012.
I was determined and ready for the victory! It feels great. I had a goal and I achieved it! WBFF Pro Diva Fitness was my second time on stage and each time it gets easier and better
, she says. She also won a contest in Miami earlier in the year, so I guess that she is two for two on the contest front.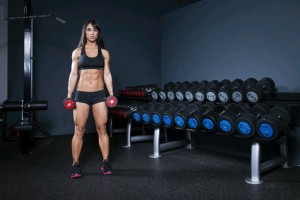 So much more to her than meets the eye, even if what meets the eye is volcanically hot. And I can't help feeling a bit of patriotic pride. She married one of us, after all, so that pretty much makes her a Brit, doesn't it?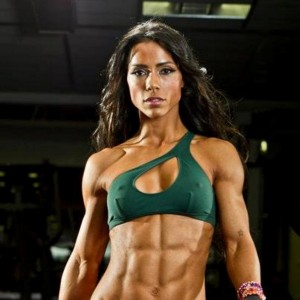 Gillian Kovack: Beauty and the Beef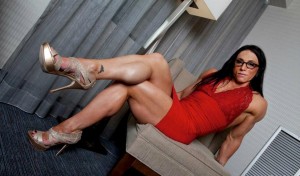 Like Sarah Hayes, Gillian was on the
FMS
radar before 2012, but it's this year that she has become one of our very favourites. Regular readers of the blog will know how Swell feels about blondes who switch to brunette (he likes them, very much), and when we realised Gillian had done that in 2012, we really started to take notice. But above all, and again, there's a similarity to Sarah Hayes here, it's the beef that Gillian added to her beauty this year that really cemented her position on our list.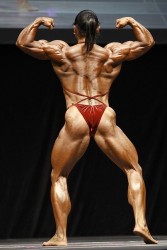 Watching her pose at the Toronto Pro earlier in the year, Swell experienced a kind of 'Road to Damascus' moment. He says,
I've always been an abs and thigh man. I'd always thought of the back poses as something I had to sit through before I got my favourite pose. The back double biceps and lat spread sort of got on my nerves as a result. I was always thinking, 'Come on, let's get to the abs'. But then I was watching Gillian do the back poses in Toronto and it was like being struck by lightning. Not just her back but the whole back view. Thick, thick hamstrings. She has single-handedly converted me. Suddenly, I'm a back pose man.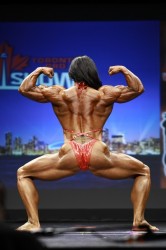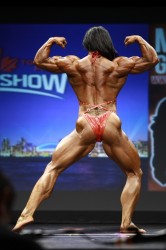 And so is that Swell's favourite clip of the year?
Actually, no. A few weeks' ago I saw a preview clip. It consisted solely of Gillian walking, the camera behind her. The shot is quite low-angle, so you're looking up at her slightly, and from behind. And all she does in the clip is walk. And it is one of the sexiest things I have ever seen. She's just got that X-factor. Undoubtedly my clip of the year.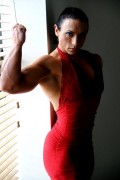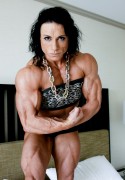 But we like Gillian from the front, too. Beef everywhere, and a smouldering beauty very different from someone like Sarah Hayes. Sarah we can imagine taking home to mother. Gillian, well, it's probably best we don't describe what we can imagine doing to Gillian (or rather what we can imagine Gillian doing to us). We will say though that the way her sexy dark eyes bore into the camera and the semi-smile she wears in a lot of clips we've seen, half-amused, half-knowing, well, that look absolutely slays us.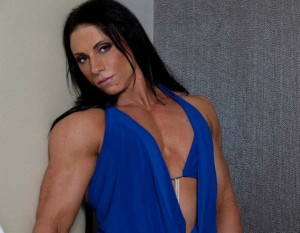 Six months after walking into a gym for the first time she quit her job as a Doctor of Geology, something that took her years to become,
with little hesitation and no regrets
. She's proper bodybuilder, and we
really
like Gillian. A lot.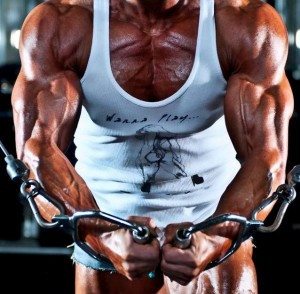 Tarna Alderman: Transformer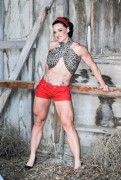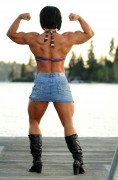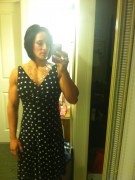 Probably the most amazing transformation in the world. Ever. In 2006, Tarna Alderman made a New Year's resolution and the results, well, you can see the results for yourself.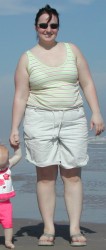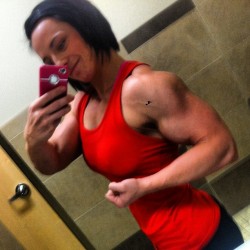 I was overweight and decided to get my act together. I realized I was the only person who could make myself happy and took action on it. I got online and found some forums and magazines, did some research and saw what it was gonna take. For me bodybuilding was the most common sense way to lose weight.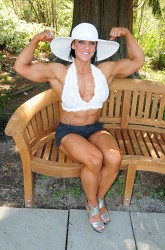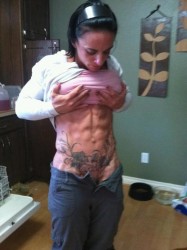 Well, she has certainly achieved that. In just six years, she has gone from
hating my body 24/7
to a woman who says
I have been surprised at the amount of women who say I inspire them and have become a fan. I think that makes me feel better than any male attention because it's not about having a good body or looking cool or sexy. its inspiration from my story.
Her story should be in everywhere. The headline should be 'Yes, you can!' I truly believe Tarna's story has the potential to inspire millions of women into lifting weights. Heavy ones.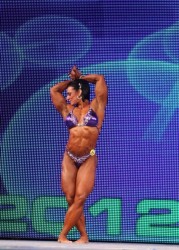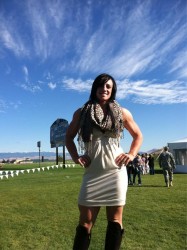 But even if that would satisfy her more than any male attention, she doesn't mind a little of it:
I was at Costco and a little kid just dropped his jaw and said 'Oh my God, Dad', it was the cutest thing, so funny.
We hope she doesn't mind a bit more of it here. I am a man, after all, and Tarna now has the kind of body that certainly grabs my attention: muscular curves everywhere.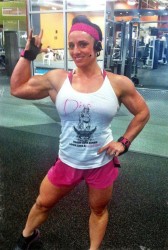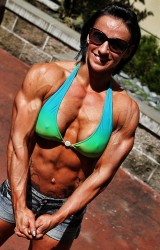 She announced her switch from bodybuilding to physique this year, after finishing second overall in this year's Emerald Cup, but we forgive her. Let's face it, she'll look good however she competes. And quite honestly, with her combination of muscle and femininity, she'll probably make an instant impact in the division. But whatever she does in the future, this incredible mother deserves our congratulations and encouragement as she continues her unique journey.
Watch
zennie 62's breathless tribute to Sarah Hayes
and
the clip of Gillian Kovack that Swell rates so highly
Visit
Helle Nielsen's training website
and
Andrea Brazier's training website
Follow
Holland Canter
and
Tarna Alderman
on Twitter
Tube clips of the Women of the Year will go up in January.
Merry Christmas everyone!
Authors: 6ft1swell
Odkaz na zdroj článku: http://femalemuscleslave.blogspot.com/2012/12/women-of-year.html